Introduction about Tamarind (Imli):
Welcome to our comprehensive and in-depth guide on tamarind, the tropical fruit known for its unique flavor and versatile applications. In this article, we will delve into every aspect of tamarind, from its sources and culinary uses to its remarkable health benefits, potential side effects, and various applications in different cultures. Whether you are a culinary enthusiast, a health-conscious individual, or simply curious about this fascinating fruit, join us as we explore the world of tamarind and uncover its many uses.
"Tamarind" – Names In Other Languages
Tamarind name in Hindi – Imli (इमली)
Tamarind name in Gujarati – Aamali (આમલી)
Tamarind name in Marathi – Chincha (चिंच)
Tamarind name in Tamil – Puli (புளி)
Tamarind name in Telugu – Chinthapandu (చింతపండు)
Tamarind name in Malayalam – Vaallan puli (പുളി)
Sources of Tamarind
Tamarind (Tamarindus indica) is a fruit native to Africa but is now cultivated in tropical regions worldwide. It thrives in warm climates and is commonly found in countries such as India, Thailand, Mexico, and Malaysia. Tamarind is available in various forms, including fresh pods, compressed blocks, paste, concentrate, and powder. You can find it in specialty grocery stores, Asian markets, and online platforms, making it easily accessible for cooking enthusiasts and health-conscious individuals.
Usage of Tamarind
Tamarind (Tamarindus indica) is a tropical fruit that has been used for centuries in various cuisines around the world. Its unique sweet and tangy flavor adds depth to dishes and beverages. Tamarind is used in sauces, chutneys, curries, stews, soups, marinades, dressings, and beverages, offering a delightful taste profile. Its versatility makes it a popular ingredient in both savory and sweet dishes.
Applications of Tamarind in Food
Tamarind is renowned for its distinctive sweet and tangy flavor, making it a beloved ingredient in a wide range of culinary creations. Here are some popular applications of tamarind in food:
Sauces and Chutneys: Tamarind is a key component in savory sauces and chutneys, providing a delightful tanginess and enhancing the overall flavor profile.
Curries and Stews: Tamarind is widely used in curries and stews, offering a rich and tangy base that balances the spices and creates a harmonious blend of flavors.
Soups and Broths: Tamarind adds a zesty and refreshing taste to soups and broths, elevating their flavor and giving them a unique twist.
Marinades and Dressings: Tamarind-based marinades and dressings tenderize meat, infusing it with a delectable tang. They also serve as flavorful dressings for salads and dipping sauces.
Beverages: Tamarind is a popular ingredient for creating refreshing beverages. Tamarind juice or agua fresca, either on its own or combined with other fruits, offers a tropical and invigorating drink.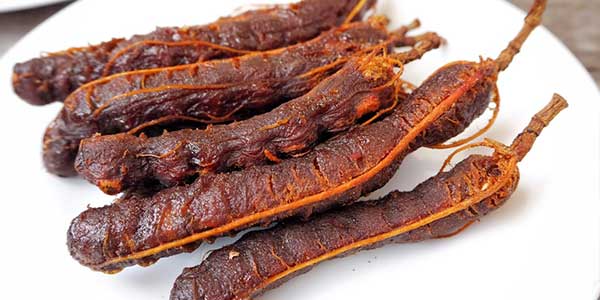 Health Benefits of Tamarind (Imli)
Tamarind not only tantalizes our taste buds but also offers a range of health benefits. Let's explore some of the notable advantages of consuming tamarind:
Rich in Nutrients: Tamarind is packed with essential vitamins and minerals, including vitamin C, potassium, magnesium, iron, and calcium, which contribute to overall health and well-being.
Powerful Antioxidants: Tamarind contains potent antioxidants, such as polyphenols, which help combat harmful free radicals, reduce the risk of chronic diseases, and promote cellular health.
Digestive Aid: Tamarind's high dietary fiber content supports healthy digestion by promoting regular bowel movements and relieving constipation. It acts as a natural laxative, aiding in digestive health.
Weight Management: The fiber in tamarind creates a feeling of fullness, potentially reducing overeating and supporting weight management efforts.
Heart Health: Tamarind contains compounds that may help lower cholesterol levels, promoting cardiovascular health and reducing the risk of heart disease.
Anti-inflammatory Properties: Tamarind has been traditionally used to alleviate inflammation and joint pain, thanks to its anti-inflammatory properties.
Blood Sugar Control: Some studies suggest that tamarind may assist in regulating blood sugar levels, making it potentially beneficial for individuals with diabetes. However, it is important to consult a healthcare professional before making any dietary changes.
Potential Side Effects and Precautions of Tamarind (इमली)
While tamarind is generally safe for consumption, excessive intake or certain forms, such as concentrated extracts, may lead to mild side effects. These can include an upset stomach or allergic reactions. If you have any existing health conditions or concerns, it is advisable to consult a healthcare professional before incorporating tamarind into your diet. While generally safe for consumption, it is essential to be aware of potential side effects and take precautions:
Allergic Reactions: Some individuals may have allergic reactions to tamarind. It is advisable to perform a patch test before consuming or using tamarind products.
Gastrointestinal Issues: Consuming excessive amounts of tamarind or concentrated tamarind products may lead to gastrointestinal discomfort, such as an upset stomach or diarrhea.
Interaction with Medications: Tamarind may interact with certain medications. If you are taking any medications, it is recommended to consult a healthcare professional before consuming tamarind regularly.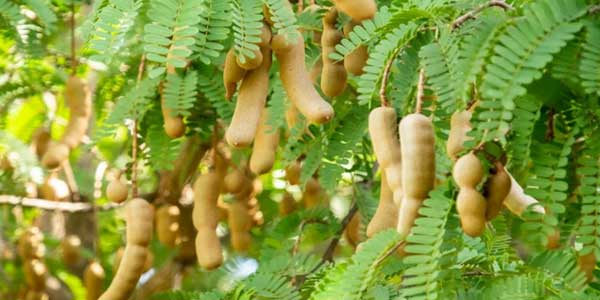 Versatile Uses of Tamarind
Tamarind finds uses beyond culinary applications. Let's explore some versatile uses of tamarind:
Traditional Medicine: Tamarind has a long history of use in traditional medicine for treating digestive issues, sore throats, and skin conditions like rashes and burns.
Cosmetics and Skincare: Tamarind is used in cosmetic products for its exfoliating and moisturizing properties. It helps promote healthy skin and acts as a natural remedy for certain skin concerns.
Food Preservation: Tamarind's acidic nature makes it useful for preserving certain foods, inhibiting bacterial growth, and extending their shelf life.
Conclusion
Tamarind is a versatile fruit that adds a unique flavor to various dishes and beverages. Its culinary applications are vast, ranging from sauces and curries to soups and beverages. Additionally, tamarind offers several health benefits due to its rich nutritional profile, including vitamins, minerals, antioxidants, and fiber. However, it is important to be cautious of potential side effects, especially in excessive consumption or if you have existing health conditions or allergies. By understanding tamarind's usage, sources, applications, food, benefits, and side effects, you can make informed choices about incorporating this fascinating fruit into your diet. So, embrace the tangy and versatile nature of tamarind, and enjoy its culinary delights while reaping its potential health advantages.